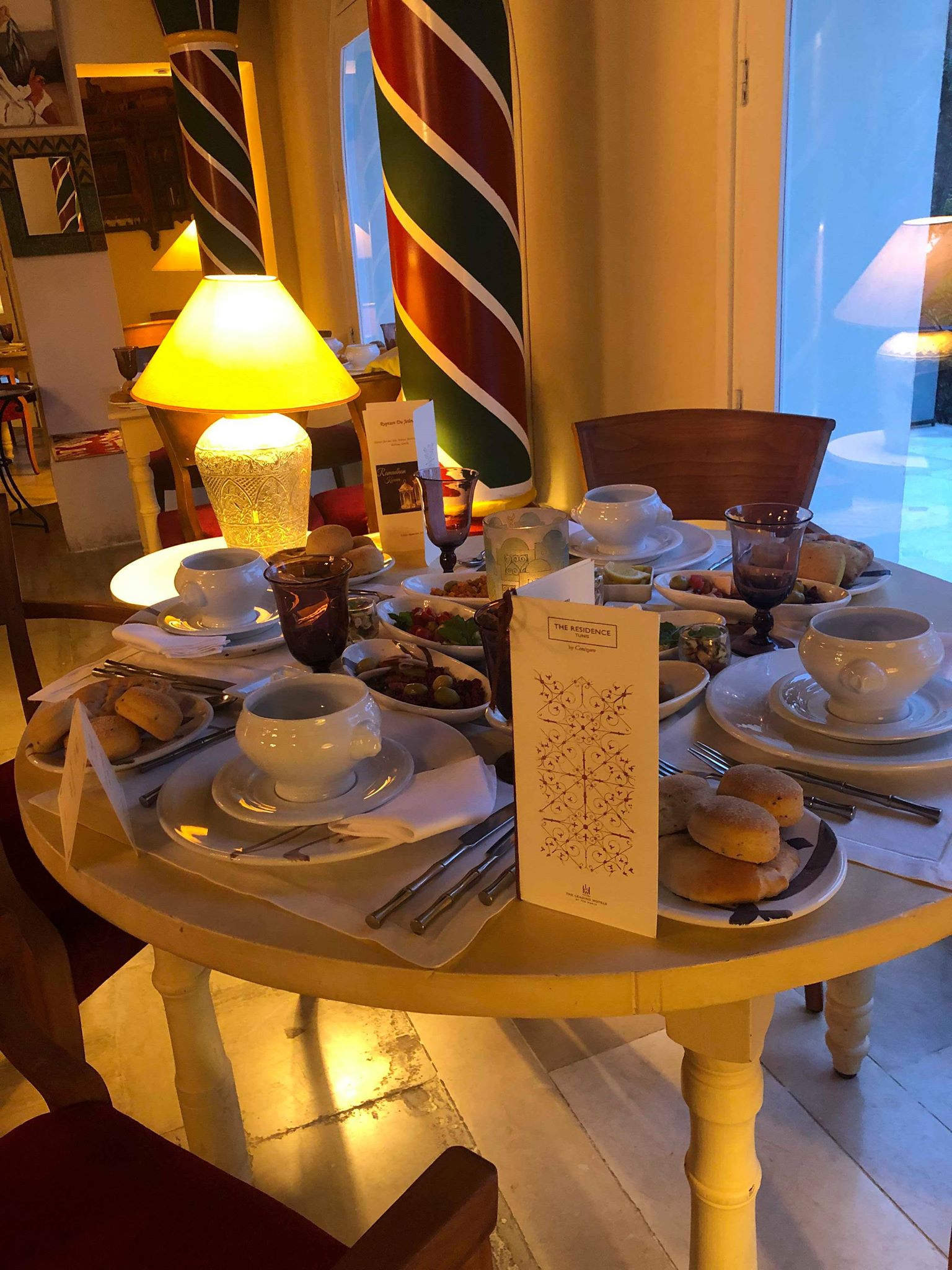 My Iftar at « eldar » Residence hotel  Tunis, I will probably never stop saying it and writing it, The Residence hotel for me represents the elegant luxury of timeless hotels: a Moorish style mastered with excellence, a soft lighting, the smell of Neroli and very beautiful canvases hanging on the walls.
I head towards eldar, the hotel's Tunisian restaurant, the name is refined and full of meaning and emotion. The staff tells me how important it is for them to make guests feel at home.
The restaurant is intimate, with barely forty chairs, and just seeing the front door makes me smile. I notice the delicacy of the decoration; it is an old restored door.
Inside, in addition to the calligraphic dishes of Kesra 88, there's also the Hanout 7ajem hanging on the wall, the old oven on which Turkish coffee is still being prepared and the magnificent canvases hanging on the wall.
The kitchen conductor is none other than our Tunisian star, Chef wafik Belaid, his talent and creativity are now proven facts and no longer a surprise.
The management of the hotel is 100%, Tunisian: Mr Belkhodja, as general manager, Mrs Harbaoui, as deputy manager, Mr Benzarti as sales manager, and Mr Channoufi as F&B manager, are the pillars and the strength of this wonderful palace.
The welcome is courteous and warm.
We are seated and we notice that there are two original facts for this month of Ramadan that have to be highlighted. The first is that salads and suites are set up directly on the table, in the center, and not served on the plate. The second is the menu, in addition to Tunisian dishes, the menu also includes international dishes, which is a wise choice, considering that, we Tunisians often go out to taste different things and Darna is one of the few restaurants that gives us this freedom.
There are other surprises too: The Residence Hotel organizes themed dinners with the musical genre matching each theme.
There are culinary dinners from various regions: Bizerte with the following specialities: Njara makrounit el msamar, ezmimra etc., Kef with el borzguene, khobz abraj, rfissa; Kerkenah with Kammouneya karnit, dried peas etc., an Amazigh night with krabiz ….and two international nights: Moroccan and Lebanese with famous chefs.
How could we not love it?
The residence Hotel Tunis, will always be one step ahead.
Podcast  » Siem Makboul »
Video  :https://www.radioexpressfm.com/qtvideo/siem-makboul-the-residence-tunis/